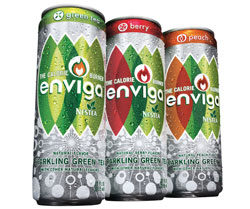 Efter en ganska lång period utan några särskilda colanyheter att rapportera om släpper Coca-cola den här bomben. Tillsammans med Nestlé har man tagit fram en läsk (visserligen ingen cola, men ändå) som sägs bränna mer kalorier än den tillför kroppen. Konceptet är ju något av en helig gral för alla som drömmer om att gå ned i vikt, tidigare har bland annat selleri påståtts ha samma egenskaper. Enligt Coca-cola är det bevisat att drycken faktiskt fungerar.
I pressreleasen säger man att friska, normalviktiga försökspersoner har fått "an average increase in calorie burning by 60 – 100 calories". Om det innebär att man förbränner upp till 100 kalorier genom att dricka en burk Enviga är det helt klart uppseendeväckande. 100 kalorier är ganska mycket energi, det krävs i alla fall en hyfsad promenad för att uppnå samma resultat. Naturligtvis är en promenad bättre på alla sätt och vis, men det är ju inte alltid man har möjlighet att ge sig ut och gå. Det ska bli mycket intressant att se hur den här drycken mottas, och framförallt hur vanliga människor upplever att den fungerar.
Uppdatering
De 60-100 kalorierna baseras på att man dricker tre burkar, inte en.
Här är ett utdrag ur Coca-colas pressrelease:
"Enviga increases calorie burning. It represents the perfect partnership of science and nature," said Dr. Rhona Applebaum, chief scientist, The Coca-cola Company. "Enviga contains the optimum blend of green tea extracts (EGCG), caffeine and naturally active plant micronutrients designed to work with your body to increase calorie burning, thus creating a negative calorie effect. It makes this product stand out as unique. Enviga brings the benefits of green tea to the forefront in a convenient and accessible, great tasting beverage."

The Nestlé Research Center in Lausanne, Switzerland, has studied the properties and benefits of green tea for decades as part of its extensive global tea business. A recent study conducted by the Center in collaboration with the University of Lausanne revealed that consuming the equivalent of three Enviga beverages over the course of the day resulted in a noticeable increase in calorie burning.

"The accumulated body of scientific research shows the ability of green tea's powerful antioxidant EGCG (epigallocatechin gallate) to speed up metabolism and increase energy use, especially when combined with caffeine," said Nestlé researcher Dr. Hilary Green.

Studies have shown that when EGCG and caffeine are present at the levels comparable to that in three cans of Enviga, healthy subjects in the lean to normal weight range can experience an average increase in calorie burning by 60 – 100 calories.

EGCG is a naturally occurring antioxidant in tea, including green tea. Enviga provides 90 mg of EGCG in each serving, along with 20 percent of the daily value for calcium. Enviga's natural flavors and naturally active plant micronutrients make it a refreshing choice for maintaining a balanced lifestyle.
Mer läsning
Pressreleasen i sin helhet
Artikel om Enviga på Wikipedia